Tuesday 4 October 2022
Parkway scores a landslide victory over St Marys
by Gary R. Rasberry
Photo by Nick Winning/The Daily Standard
ROCKFORD – At first it seemed that the volleyball match at St Mary's Parkway would be a home and away match.
Parkway won the opening set, with St. Marys leading 7-3 early in the second set and leading 17-15 before the Panthers returned and earned the extra points. The Roughriders hung hard in the third set, but State-ranked Parkway in the third division struggled to win 25-16, 28-26, 25-17 Monday night at the Panther Gymnasium in Rockford.
The Panthers jumped to a 7-3 lead in the first set thanks to kills from Gabrielle Stober and Emmery Temple with the addition of the Stober ace. St. Mary's was not able to approach more than five points for the rest of the way while the Parkway was sailing.
The Roughriders started spotting the tiger's attack in the second set and started making some good attacks of their own, jumping 7-3 as Syerra Greber had a four-point lead and Brian Clark added several big kills. But with St Marys leading 17-15, the Panthers rebounded and Stoper gave six straight points to give Parkway a 22-17 lead.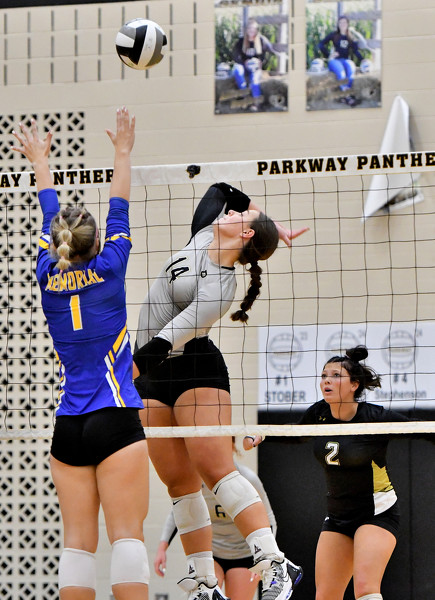 Photo by Nick Winning/The Daily Standard
St. Mary's rebounded again with Gracelyn Jones and Sylvia Wishart coming in with big serving rounds to give St. Mary a set point at 24-23 before Macy Johnson got a kill to tie the group at 24-23. The Roughriders went up 25-24 on the Greber kill, but were called up for being in the net to tie the group again. Parkway then had a set point at 26-25 with Ace Johnson, but the Panthers were then called up for being at the net to equalize the group again at 26-all.
Stober scored a kill goal to earn a set point and serve again and Emiree Knittle scored the winning kill to put the Panthers 2-0 ahead.

"I thought in the first set, our first contacts were very clean," said Panthers coach Jordan Henkel. "(St. Mary in the second set) got some blocking and we had to start moving it around and fixing things as we went along. We held together enough in time."
The third set started back and forth, with eight to 15 laces. Johnson broke the tie with a kill to make it 16-15 and followed St. Mary's foul by Knittle ace and Brittyn Bruns to kill 19-15, forcing St. Marys coach Callie Yoder to call a timeout. Johnson reached 20-15 and St Mary's couldn't even get close to the sprawl.
"At 15, there was a long run and we won the point," Henkel said. "I think there was a lot of momentum to have. We carried some eventually."
"Overall, I'm happy with the way we played tonight," Yoder said. "We had streaks of greatness and played great defensive volleyball and took it to (Parkway) offensively. Tough loss, but we have two more games this week. We'll focus on them and fight it out to play our best volleyball."
Johnson finished with 16 kills for Parkway with Stober adding 15 kills. Bronze had 21 assists and 13 assists.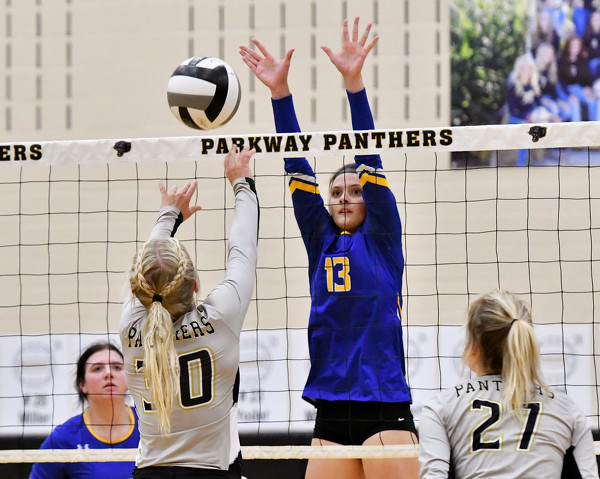 Photo by Nick Winning/The Daily Standard
Clark had nine kills for St. Mary's, with Graeber and Addison Luth adding seven each. Lily Rammell has 19 assists, nine drills, five kills, and two aces.
Parkway (15-3) is closed until Thursday when the Panthers host fourth-tier New Bremen. Saint Marys (11-8) returns to play tonight at the Western Buckeye League play as Elida travels south to Grand Lake Health System Court.
#Finding #holes #Daily #Standard #Stories