Family owned since 1877, Barilla The world's leading pasta manufacturer – more than 160 shapes and sizes are sold in more than 100 countries. In Italy, it accounts for 45% of the pasta market, and 35% in the US market. In addition to pasta, Barilla has 16 brands in related product categories such as sauces and bread.
Although steeped in history, Barilla is no stranger to technology. The Italian pasta maker uses connected technologies and analytics to improve traceability in its supply chain. Its field-to-fork initiative tracks all stages of food production – from local harvesting to storage, processing, packaging, distribution, and even consumption.
Barilla was an early adopter of sustainable practices in its facilities. More than two-thirds of the electricity used at Barilla's plants comes from renewable sources. Since 2010, Barilla facilities have reduced water consumption by 21% and greenhouse gas emissions by 30%. The company also promotes more sustainable agricultural and agricultural practices for its suppliers – 3,000 agricultural companies around the world participate in sustainable farming projects with Barilla.
Integrated Robotics Distribution
Amidst a culture of technology and environmental initiative, Barilla announced plans in 2018 to invest €1 billion over five years in its industrial assets, with the aim of promoting sustainability by improving processes and technologies. The central focus of this plan was to transform the distribution operations of a pioneering pasta production facility in Parma, Italy, into a showcase for integrated robotic operations and energy conservation.
The newly upgraded distribution facility at the world's largest pasta manufacturing operation combines modern robotics, machine-to-machine communication and the Industrial Internet of Things (IIoT) for improved automation and simplified productivity.
Flexible, highly automated systems enable Barilla to respond to the needs and capabilities of the distribution facility, notes Alessandro Spadini, plant manager for the Parma facility. "Any distribution system that is not sufficiently flexible, based on a strict scheme, sooner or later will become a problem," he says.
An essential part of the distribution project is the systematic integration of the project rather than separate individual systems, according to Spadini. To achieve this strategy, Barilla called E80 . group To create a comprehensive solution. Beginning with planning and distribution model simulations of the Parma facility in 2013 and continuing with upgrades and expansions into 2020, the E80 has enabled the construction of a 430,000 square foot fully automated, 24/7 light fixture facility. It is equipped with 120 laser-guided vehicles (LGVs), 35 automated systems including High Density Automated Storage and Retrieval (AS/RS) systems, pallets, labels, and stretch wrappers.
In 2019, these systems combined processed 438,000 tons of pasta; About 1000 SKU different packed.
LGVs as vector alternatives
The main driver of this renovation project was the desire to replace tankers with LGVs to move pallets within the facility, Spadini notes. "Traditional transmission systems are proportional to peak production and are not flexible enough to manage differences in throughput, in terms of flows and volume," he says. "Therefore, pallet conveyor systems are usually very inefficient."
The Parma facility uses three main types of container transporters – carrying one, two or four pallets at a time. LGVs interact with ground platforms and AS/RS induction stations. They pick up and drop off pallets between receiving and manufacturing, pallet, stretch packaging, labeling, finished goods warehousing, and staging locations for shipment. Roller beds on LGVs allow for effective rolling/rolling.
LGV navigation depends on target triangulation. Each LGV is equipped with a rotating laser device that scans 360 degrees around the vehicle for laser targets mounted on poles, walls and stationary machinery. Reflections from these targets are triangulated to determine the position, and the position is compared to a CAD-type map stored in the LGV memory.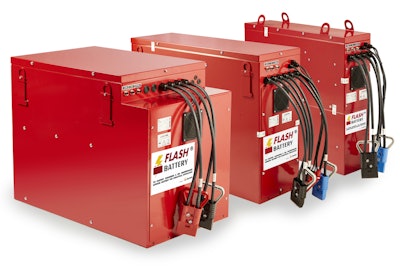 Developed for lithium E80 flash battery The technology provides a high level of performance for industrial vehicles. Lithium iron phosphate offers low toxicity, well-defined performance, and long-term stability. With a very stable discharge voltage, flash battery technology delivers nearly full power until the battery is discharged.
Integrated system controls
Operating the LGVs, as well as all integrated robotics systems within the Parma distribution facility, is the E80's Integrated Intelligent Logistics Control Platform (SM.I.LE80). SM.I.LE80 constantly updates in-place status for each LGV – including whether it's loading, unloading, emergency shutdown or simple off, operating in manual mode and battery level. The HMI display provides the operator with a graphical overview of the LGV locations in the system and monitors each one in real time.
SM.I.LE80 controls ensure integrated and automated management of systems, communication with AS/RS, pallets, casings and cargo staging sites. The entire LGV logistics flow within the Parma distribution process can be managed centrally from this platform.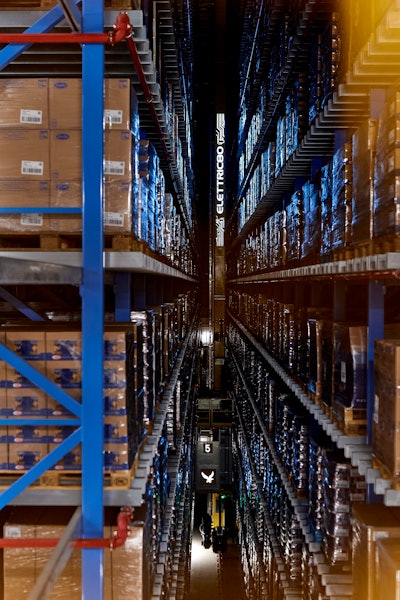 Barilla's high-density automated warehouse – where six stacking cranes support 47,000 pallet positions – is perfectly integrated with LGV technology. E80's AS/RS Crane Store Systems are equipped with double depth warehousing automatic product processing devices. Since they can operate at altitudes of up to 130 feet, these systems greatly increase storage capacity. An additional 50,000 pallets are used for the low-density, high-density storage of the LGV drive.
Automatic pallet-free pallets
The Barilla facility uses a unique palletizing process. Automated pallet stations form cases in palletizing configurations directly on the pallet. The configurations are then transferred to LGVs and transported to other processing stations at the end of the line at the facility where a pallet is inserted beneath them prior to storage and shipment.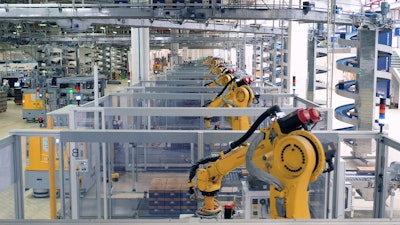 This removes wooden pallets from most of the operating area. Spadini points out, "Removing timber from production and from many distribution areas means removing an ingredient that may contaminate the environment in which we produce and package our products." "But also, managing pallets without wooden parts opens up an opportunity for fully automated handling and reprocessing of pallets, which improves efficiency and reduces environmental impact."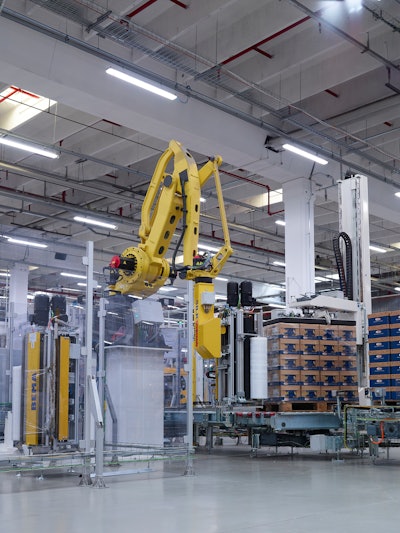 As with other systems in distribution operations, the wrapping and stretching of the end of the Barilla line is also fully automated and integrated with LGVs and other robotic operations. High speed stretch wrappers use automatic packaging head switches, eliminating the need to stop production.
"Not only could we manage the use of the stretch wrap film very precisely, but we also reduced the use of the film by about 30% compared to previous stretch wrappers," Spadini says.
tracking
In addition to LGV traffic management and other integrated robotics systems, the SM.I.LE80 control system maintains control and identification of every product condition throughout the distribution facility. Once cases and pallets leave the facility, the classified definition provides a full traceability and traceability mechanism throughout the supply chain.
"For Barilla, traceability means providing the right information, the right information, and the right information at the right time about all of our products from the moment we received plenty of raw materials until the moment we distribute our products and put them on shelves," Spadini says. "Complete traceability, for us, is one of the key elements to ensuring and ensuring our consumers the right to nutritionally safe as well as controlled products."
#Barillas #largest #pasta #factory #showcases #integrated #robotics #sustainable #distribution